August 2011 Events

Wednesday, August 3,
Storytime and book signing for
Happy Birthday, Hamster
,
Kennebooks
, Kennebunk, Maine, 10:30-11:30 am.
Saturday, August 6,
Story time with
Bess the Book Bus
,
Peabody Library,
Jonesport, Maine, 11 am. (I won't be selling books at this event. Bess the Book Bus is a literacy program, bringing books to kids in rural and less advantaged areas. Participating kids each get to choose a free book off the bus).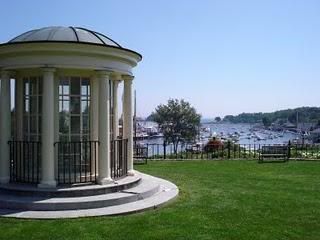 Where I'll be reading in Camden! The other authors coming are: Jennifer Berne, Jeannie Brett, Steve Costanza, Melissa Sweet, Chris Van Dusen, Toni Buzzeo, and Peter and Connie Roop.


Saturday, August 20,
Children's Book Festival By the Sea,
Camden Public Library
, Camden, Maine. 1-4 pm.
Saturday, August 27,
Book signing for Happy Birthday, Hamster,
Children's Book Cellar
, Waterville, Maine. 10 am-12 pm.
Current Mood:

happy
My complete blog can be found here:
http://cynthialord.livejournal.com/
.
Touch Blue
had some good news yesterday. It made the Top Ten for the
Fall IndieNext List
. It sometimes feels like this book is the quiet younger sister of a popular older one. So to have it make a list that
Rules
never made was extra special.
My daughter and I took a drive down to the water last night to celebrate.
We had chowder at a local restaurant. The diners at the next table stared at us the whole time!
I knew the restaurant wouldn't want us to feed them in the dining area, so we bought them a treat and went across the road to a little public area and fed them there.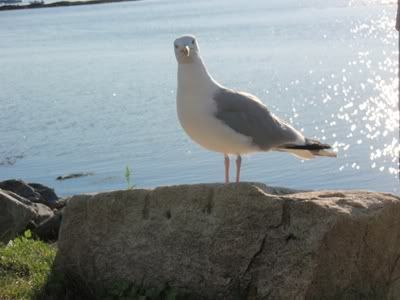 They brought 30 or so of their friends!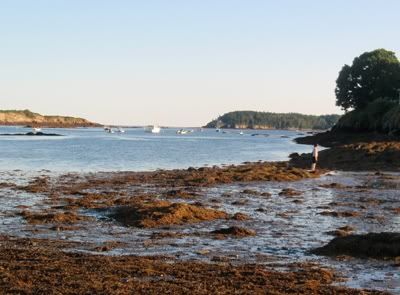 I love low tide. Julia and I kicked off our flip-flops and walked through the clam flats, enjoying the hundreds of little hermit crabs shifting and squiggling, and the sudden spits of water shooting up from the clams deep beneath our feet.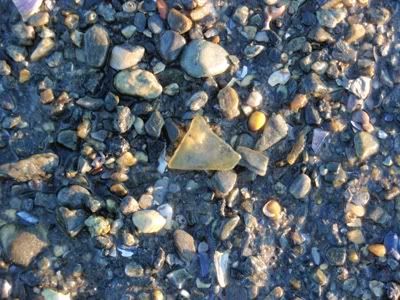 I picked up seaglass. I didn't find any blue, but we did find pink!
.

More Reviews for Touch Blue:

Realistic characters, humor, and a charming setting make this a great choice for collections of all sizes. --Kirkus Reviews
...a truly timeless novel, perfect for sharing. --Christian Science Monitor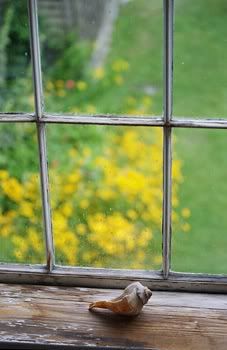 Wednesday, August 18, Book signing for Hot Rod Hamster and Touch Blue, Kennebooks, Kennebunk, Maine, 10:30 a.m to noon.

Thursday, August 26, Book signing for Touch Blue and Open House (with Karen Baldacci, First Lady of Maine), Barnes and Noble, Augusta, Maine, 4 p.m..


Saturday, September 18, Book signing for Touch Blue, DDG Booksellers, Farmington, Maine, 2 p.m.

Wednesday, September 22, New England International Reading Association Conference, Nashua, New Hampshire.

Friday, September 24, Book signing and school visits for Touch Blue with Children's Book Cellar, Waterville, Maine.




Saturday, October 2,

Bangor Book Festival, Bangor, Maine. Open to the public.

Sunday, October 10, Book signing for Touch Blue at Barnes and Noble, Newington, New Hampshire, 1;00 pm.

Tuesday, October 19, School visit, Islesboro School, Islesboro, Maine.

Friday, October 22, School visit, Frenchboro School, Frenchboro Island, Maine.

Wednesday, October 27--Thursday, October 28, School visit, Vinalhaven School and North Haven School, Maine.

.
Lord crafts a moving story of making your own luck and creating a sense of belonging from the inside out.
~Jennifer M. Brown at Shelf Awareness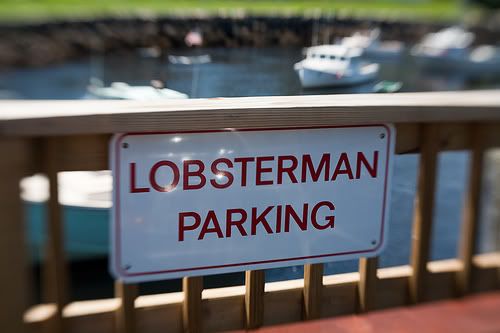 York, Maine. Photo by my husband, John
It's exciting and a bit anxious right before a book comes out.
Touch Blue
had
a lovely review
recently in "Shelf Awareness," a newsletter that goes out to booksellers, librarians, and industry people.
You can read the first chapter of
Touch Blue
or download a free Teacher's Guide on my website.
http://www.cynthialord.com/touch-blue.html
And if you'd like to read more blog entries, my regular blog can be found here:
http://cynthialord.livejournal.com/
.
.
.
On Saturday, July 10th, I'll be signing
Hot Rod Hamster
at the 6th Annual "Books in Boothbay" Maine Summer Book Fair. There are 40 Maine authors and illustrators signing, but look who's front and center on the poster!
It's probably the only time I'll see Hamster sharing space with Abraham Lincoln!
Books in Boothbay: Maine's Sixth Annual Summer Book Fair
Authors include: Julia Spencer-Fleming, Kate Braestrup, Charlotte Agell, Lea Wait, and more!
Location:
The Historic 1847 Boothbay Town Hall
The Boothbay Railway Village
http://www.railwayvillage.org/
Route 27 South, Boothbay, Maine
Day:
Saturday, July 10
Time:
12:30 to 3:30
Admission:
The book fair is free with free on-site parking (though there is an admission fee if you also want to visit the museum)
Immediately following the Fair, there is an "Authors & Artists" reception, free and open to the public, sponsored by the Boothbay Art Foundation and the Boothbay Harbor Memorial Library. In addition to mingling with writers, you will be able to view artwork produced by the Foundation members and members of the Maine Plein-Air Artists Association. Enjoy good wine (non-alcoholic drinks available), good food, and good company.
Spruce Head, Maine. Photo by my husband, John
Yesterday I put up
an initial page on my website for Touch Blue
, including a link to my first chapter. Now I'm working on a teachers' guide. When I was a teacher, I wrote educational materials, and I miss it sometimes. So it's fun to work on those guides.
I received an enthusiastic confirmation from
Frenchboro Island School
, a one-room schoolhouse that I'm visiting in October with
Island Readers and Writers
(you can see a slideshow of the island that includes photos of the school and a real blue lobster
here
).
April 3 thru October 30
Departs

Bass Harbor
8:00 a.m.
5:00 p.m.

Frenchboro
9:00 a.m.
6:00 p.m.
I can't be late!!! These are the only ferry runs!
I'm visiting six Maine schools with Island Readers and Writers in the fall, including four island schools. I'm honored to be part of that program.
And
this review of Touch Blue by a student on TIME for Kids
made me smile.
If you'd like to read more of my blog entries, my regular blog can be found here:
http://cynthialord.livejournal.com/
Current Mood:

happy
From my writing shed.
I did my first phone interview for
Touch Blue
this morning. It will be in the August edition of
Book Page
. After talking about
Rules
for four years, it was really fun to have a new novel to talk about.
The title,
Touch Blue
, comes from a superstition:
Touch blue and your wish will come true.

The main character of
Touch Blue
is an 11-year-old named Tess who is a lobster fisherman with her dad. They live on an island in Maine, and their little island school is in danger of being closed because there aren't enough island kids to keep it open. So the island families adopt a group of foster children to keep their school open. Tess is very excited, because she wants the boy who is coming to live with them to be a best friend and a big brother. When he arrives, he isn't exactly what she expected.
The book was inspired by a true event that happened in Maine in the 1960s, though I have changed many things to make it work as a story.
Touch Blue comes out on August 1st.
If you'd like to read more of my blog entries, my regular blog can be found here:
http://cynthialord.livejournal.com/
Current Mood:

happy
A few months ago, Scholastic asked me to write a letter telling where the idea came from for
Hot Rod Hamster
. One of the best parts of writing a picture book is watching it come to life with illustration--Derek adds so much to everything we've done together, including this letter.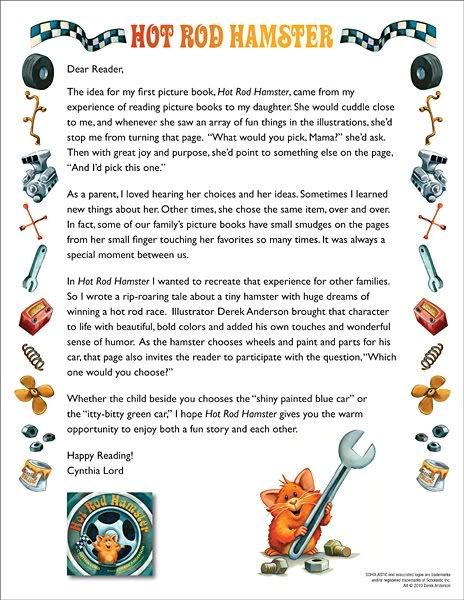 I also came home to the news that Hot Rod Hamster made the Publisher's Weekly Bestseller List for picture books this week. It snuck on at #14!
And my editor told me she held a galley of Touch Blue yesterday. So they're here! I can't wait to run my hand over the cover and open it up to smell those new-book pages.
Current Mood:

excited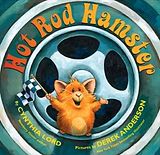 I'm excited to have two new books coming in 2010. My first picture book,
Hot Rod Hamster
, comes out on February 1st, and my second novel,
Touch Blue
, will be released in August.
It's been a joy to work on
Hot Rod Hamster
with illustrator,
Derek Anderson
--in fact, look at the fun drawing page Derek made for the book.
You can download this drawing sheet
here
. We also have a helpful teachers' guide that includes information about Derek and me, some early sketches from the book, booklists, and activity ideas. You can download the Hot Rod Hamster Teachers' Guide
here
.
Wishing you all the best in 2010! May it be a wonderful year full of special moments and great books.